Kitchen Remodeling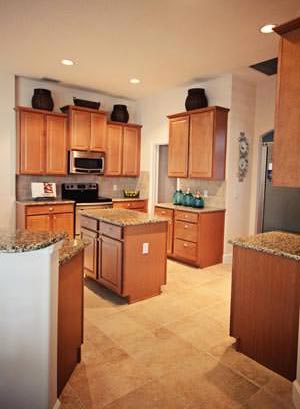 Your kitchen is often the center of activity in your home. Kitchen remodeling is one of the best ways to increase the value of your home. Your kitchen is also the most exciting room to remodel.
No matter what amount of space you have to work with, a knowledgeable contractor will give you ideas and thoughts to consider. This will help you maximize your kitchen's potential and give you the latest trends in products to use.
We are a supplier of Timberlake Cabinetry which is available in many colors. A popular cabinet top is Granite and we also offer a product called Silestone. Silestone is just as durable as granite at comparable cost. Silestone has many more colors to choose from and, since this is a manufactured product, it is true to color as well. We also have "green" products available as well in Silestone.
Getting started is! Contact Macik Builders and a total home contractor will come out to see what you are looking for and give you some ideas. This is at no cost to you. Then, we will prepare you an estimate. It is as easy as this. We also encourage you to come into our office and see what we have in our showroom.
Master Bathroom Remodeling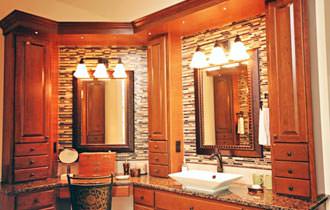 Your investment return on your master bathroom is anywhere from 80-90%. Your master bathroom and your kitchen are the two most popular rooms in a house. For some, it's a convenient alternative to fighting for a spot in the family bathroom. For others, it's the perfect, private spot for some occasional relaxation. For many, it's both.
The right remodeling contractor and design team can help you find the ideal balance of function and luxury. Recent trends are dual shower heads, as well as body massage sprayers, heated floors and heated towel racks, and even an HD TV. Silestone can be used for your showers (no grout), counter tops and sinks.
Things to consider when remodeling your bathroom:
Think about your daily routine
Wouldn't double sinks be nice even a vessel sink (new trend). Perhaps it would be handy to have a linen closet right in the bathroom; built in the same material as your cabinets. Perhaps more cabinet space and cabinet drawers?
Ask your contractor about lighting options
LED lighting has become very popular and can be used for soft lighting at night while saving on ever increasing electricity bills.
Shower, bathtub, or both
Many couples opt for the stand-up walk in shower (no doors) for the everyday routine, plus an oversized tub for relaxing soaks.
No matter what you are wanting to remodel, the cost of remodeling is based upon many different factors. Some of those are quality of materials, type of materials, and the scope of your desired project. No two remodeling projects are the same, so picking the right contractor with experience in all phases of construction will give you ideas and ease the process, resulting in a hassle free experience. We are your hometown contractor and we want you to be pleased with the end results that will bring you and your family many years of enjoyment.